Unprecedented Times

Nursing care and nursing leadership has rarely been so tested as it is now with the COVID-19 Pandemic. The course of all of our lives is being fundamentally altered in these unprecedented times.

We are inspired by the dedicated and dangerous work of all health care professionals on the frontlines. Four of the Board of Directors of Nurses Educational Funds, Inc. are working in leadership capacities in four of the major healthcare institutions in the New York Metropolitan area dealing with the day-to-day challenges of the COVID-19 Pandemic.

The virtual office of NEF is open and the board members who are nurses are currently in the process of reviewing the 2020 eligible NEF applications for scholarship finalists. We plan to announce the NEF Scholarship recipients in early May.

The core of NEF's mission is to promote nursing leadership by awarding scholarships to support nurses studying in graduate nursing programs throughout the United States and we intend to honor that mission now as we have for the past 108 years.
NEF Celebrates 2020
"The Year of the Nurse"
The World Health Organization has designated 2020 as the International Year of the Nurse and the Midwife in honor of the 200th birth anniversary of Florence Nightingale. Nurses Educational Funds (NEF) plans to recognize this celebration by presenting extraordinary nurse leaders associated with NEF on our website each month.
This March NEF feature's Estelle Massey Osborne (1901 – 1981), who was the first African American nurse in the U.S. to earn a master's degree in 1931. Estelle Massey became the educational director at Freedmen's Hospital (now Howard University Hospital ) in Washington, D.C. in 1934. In 1940 she became the 1st African-American superintendent of nurses and director of Homer G. Phillips Hospital nursing school. In 1945 Ms Massey became the first African American assistant professor of nursing at New York University.
Ms Massey Osborne was president of the National Association of Colored Graduate Nurses, where she increased membership and forged relationships with the American Nurses Association (ANA), National League for Nursing, and National Organization for Public Health Nursing. In 1946, she received the Mary Mahoney Award for her efforts to broaden opportunities for black nurses to move into the mainstream of professional nursing. A member of the ANA Board of Directors from 1948 -1952, Osborne was an ANA delegate to the International Council of Nurses. She was a member of the National Urban League, first vice- president of the National Council of Negro Women, and an honorary member of Chi Eta Phi Sorority and the American Academy of Nursing.
The Freedmen's Hospital School of Nursing, Alumni Clubs, Inc. and Nurses Educational Funds have created a scholarship in Estelle Massey Osborne's name. The Estelle Massey Osborne Scholarship is awarded each year to an African American Master's degree applicant who demonstrates exceptional academic, clinical, and community service achievements.
NEF's sole mission is to raise money for graduate scholarships in nursing education, advanced clinical practice, research, and administration. In this Year of the Nurse and the Midwife, we hope you will consider making a gift of any amount to NEF to support future nurse leaders.
A permanent named scholarship may be created through NEF to recognize or perpetuate the memory of a loved one (living or deceased), a nursing leader, a community leader, a special friend, a family member, or significant other.
Please make the support of nurse leaders your priority for 2020.
Nurses can transform lives.
To donate: click here: https://www.n-e-f.org/donate.html and follow the prompts to make a donation.
A check may be made out to NEF and mailed to:
NEF, 137 Montague Street, Ste. 144, Brooklyn NY 11201
For more information contact Jerelyn Weiss, Executive Director, Email: This email address is being protected from spambots. You need JavaScript enabled to view it. Phone: (917) 524-8051
Nurses Educational Funds, Inc.
Gala Reception
Honoring
Madeline A. Naegle, PhD, RN,
The Foundation of the National Student Nurses' Association
on their 50th Anniversary, and the 2019 NEF Scholars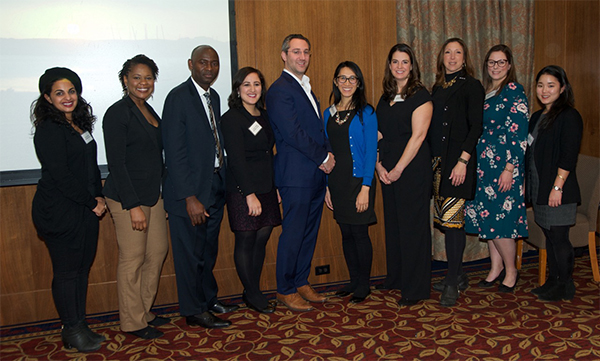 The 2019 NEF Gala Fundraising event was an enormous success! Held on Wednesday, November 13 at the Griffis Faculty Club in New York City, more than 100 guests gathered to celebrate Nurses Educational Funds, Inc., its honorees and scholarship recipients. Our thanks are again extended to Rosanne Raso and her wonderful Executive Assistant, Uvanda Reynolds, who facilitated all of the arrangements at the Griffis Faculty Club. Our appreciation also goes to Judith Ochola and Suzette Joseph, registered nurse and undergraduate student at Hunter Bellevue School of Nursing, who for the third year assisted NEF in welcoming guests at the registration desk.Read more...