One Hundred Years and Still Counting, the Story of NEF - Yesterday, Today, and Tomorrow
Nursing Administration Quarterly (NAQ) has generously allowed FREE access on the NAQ website to the October - December 2014 article about Nurses Educational Funds, Inc. entitled: "One Hundred Years and Still Counting, the Story of NEF - Yesterday, Today, and Tomorrow". (Vol.38, No.4,pp. 332-339)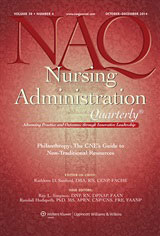 To access the article click here.
On NAQ's home page click on current issue; October - December, then click on table of contents; scroll down to the article title: "One Hundred Years and Still Counting, the Story of NEF - Yesterday, Today, and Tomorrow" and click on "free" to read the article. Free access will be available for the rest of 2014.
Honoring Recent NEF Endowed Scholarships Donors
With a Gala Reception on
October 22, 2014
Despite the daunting challenges of a Nor-Easter that prevented and inhibited travel, NEF's Cocktail Reception honoring three donors of NEF Endowed Scholarships, was a lovely, warm event.  The relatively small attendance of 36 included representatives of the three organizations that funded the new scholarships, several nursing leaders from the metropolitan area, Dr. Patricia Davidson, Dean of the School of Graduate Study at Johns Hopkins University, Dr. Harriet Feldman, Dean of the School of Nursing & Health Professions at Pace University, and Dr. Eileen Sullivan-Marx, Dean of the College of Nursing, New York University. This year's NEF Scholars who were warmly welcomed by the NEF Board members were from Villanova, CUNY, NYU, Teacher's College, Columbia's School of Nursing, and SUNY Downstate.
Nursing Scholarships for Graduate Education
Nurses Educational Funds, Inc. (NEF) is a not-for-profit organization which seeks and distributes funds to baccalaureate prepared registered nurses who are in need of nursing scholarship assistance for graduate study. NEF is administered by a Board of Directors comprised of prominent leaders in nursing, business, and other professions. Nurses comprise the majority of board members.

NEF has been in existence for over 100 years! It was in 1912 that the first two Isabel Hampton Robb scholarships were awarded to two nurses, Cecelia Evans and Lisle French. From then on NEF has continued to support nursing professionals motivated to seek graduate degrees. With the support of those who value the critical need for:
nursing educators
advanced nurse clinicians
nurse researchers
NEF, the largest, single, private, professionally endorsed source of funds for advanced study in nursing will continue with this work for the next 100 years!


Thank-You Letter Excerpts From 2014-2015 NEF Scholarship Winners
Doctoral Degree Scholarship Winners:
Nursing Educational Funds, Inc.:
It is with great humility and gratitude that I write this note of thanks for your generous donation in the form of an educational scholarship, granted to me this school year. I cannot begin to tell you the relief it brought to me, given the tremendous amount of academic debt and hardship that are involved in pursuing a doctor of nursing practice degree. Your scholarship funds will help me to partially fund the cost of my education while still meeting the needs of my family – a gift for which I cannot possibly thank you enough. I plan to use the DNP degree to pursue a career in academia, so that I may give back to the field of nursing in a meaningful way.
Masters Degree NEF Scholarship Winners
Nursing Educational Funds, Inc.:
I am writing to thank you for choosing me as a 2014-2015 NEF Master's Nursing scholarship recipient. I was so pleased to learn that I was selected to receive these important funds and am incredibly appreciative of your support for my education.