Nursing Scholarships for Graduate Education
Nurses Educational Funds, Inc. (NEF) is a not-for-profit organization which seeks and distributes funds to baccalaureate prepared registered nurses who are in need of nursing scholarship assistance for graduate study. NEF is administered by a Board of Directors comprised of prominent leaders in nursing, business, and other professions. Nurses comprise the majority of board members.

NEF has been in existence for over 100 years! It was in 1912 that the first two Isabel Hampton Robb scholarships were awarded to two nurses, Cecelia Evans and Lisle French. From then on NEF has continued to support nursing professionals motivated to seek graduate degrees. With the support of those who value the critical need for:
nursing educators
advanced nurse clinicians
nurse researchers
NEF, the largest, single, private, professionally endorsed source of funds for advanced study in nursing will continue with this work for the next 100 years!


NEF Headlines
MISSION TO UGANDA
by Dr. Kathleen Dirschel
Upon my retirement last year, I embarked on a volunteer healthcare mission in the back country of Uganda to work with the HIV+ population of adults (55% of the adults) and the HIV+ children.  While I was there I participated in the care of more than 75 children all of whom were HIV+ and all of whom were abandoned or orphans. They had no family to care for them. I worked there for three weeks and it turned out to be among the most difficult and most heartfelt, rich and caring experiences of my life.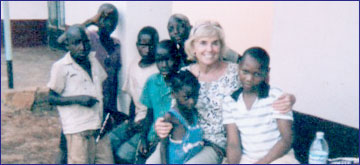 The organization that facilitated my trip is Quality Volunteer Network (QVN).  It is a charity registered in New Zealand.  The AIDS relief that they provide is made possible through the U.S. Presidents' Emergency Plan For AIDS Relief, (PEPFAR). Uganda gets PEPFAR resources in the form of many medications and other support services. The purpose of PEPFAR is to increase treatment of HIV infections and decrease AIDS-related mortality. Its mission is the prevention, treatment, and care interventions with HIV.
read more >
NEF Board Member Karen Ballard, Named Executive Director of ANA New York
Karen A. Ballard, MA, RN, FAAN, NEF Board Member, has been appointed by the American Nurses Association - New York, Inc. (ANA-NY) as its first Executive Director. Ms. Ballard, has over 20 years experience as an ANA Association executive and was formerly the Interim Secretary of ANA-NY.

With a BSN from Niagara University's College of Nursing and an MA in child and adolescent psychiatric mental health nursing from New York University, Karen Ballard currently holds an adjunct faculty position at New York University, teaching health policy in the College of Nursing's graduate program.
read more >


Doctoral Nursing Student Is The First Recipient Of The NEF Board Member, Cynthia Davis Sculco, Scholarship
Nancy Wise, a doctoral student at Villanova University in Radnor Township, Pennsylvania, is the first graduate nursing student to be awarded the Cynthia Davis Sculco Scholarship.

Nancy's primary area of interest is the number of pregnant adolescents who present risk factors (e.g. preterm and low birth weight babies) related to poor nutrition. During her time as an OB/anesthesia nurse educator she conducted two studies in adolescent pregnancy that resulted in her dissertation: "Nutrition Knowledge, Healthy Eating Behaviors and Personal Self-Efficacy in Pregnant Adolescents".
read more >