SAVE THE DATE!
Nurses Educational Funds, Inc.
Invites you to our next
NEF Gala Reception
Wednesday, November 1, 2017
6 to 8 pm
At the Griffis Faculty Club
521 East 68th Street
New York, NY 10065
Please join us to support and celebrate graduate nursing education.
NEF Remembers M. Louise Fitzpatrick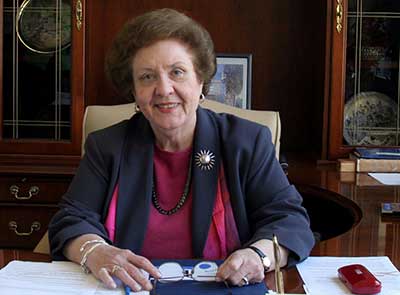 Nurses Educational Funds, Inc. mourns the loss of one of our most dedicated board members, M. Louise Fitzpatrick, EdD, RN, FAAN, who passed away peacefully at her home on September 1, 2017.
Dr. Fitzpatrick's association with Nurses Educational Funds, Inc. is longstanding, dating back to 1970 when she was awarded NEF's Isabel Hampton Robb Scholarship while studying for her doctoral degree in nursing education at Columbia University Teacher's College.
Louise served as the Dean of the College of Nursing at Villanova since 1978 and formerly was faculty at Columbia University where she taught public health nursing to masters students and prepared doctoral students in curriculum development and historical research.
She was an alumna of the Johns Hopkins School of Nursing, the Catholic University of America and Columbia University and holds a certificate in higher education management from Harvard. She was a fellow of the American Academy of Nursing; and has served on numerous professional associations and health agency boards as well as accreditation commissions. She received awards from all her alma maters, the Pennsylvania Nurses Association's Global Citizen Award, and many community service organizations.
In 2004 Dr. Fitzpatrick was the recipient of the National League for Nursing's Award for Outstanding Leadership in Nursing Education. She has also been the recipient of a World Health Organization Fellowship for Study in Scandinavia and the United Kingdom and a Malone Fellowship from the Committee on U.S. Arab Relations.
To paraphrase the Reverend Peter M. Donohue, OSA, President of Villanova in his tribute to Dr. Fitzpatrick, " . . . she epitomized the . . . nursing profession, she embodied the spirit of what it means to be a nurse—competent and compassionate, fully committed to bettering the lives of patients and the community at large. She loved nursing, the College, and her students. . . "
Under her leadership, the College of Nursing developed into a premier nursing program, recognized repeatedly by the National League for Nursing (NLN) as a Center of Excellence in Nursing Education. She expanded the College's academic programs, including initiating the master's and doctoral programs, as well as an accelerated BSN program for second-degree students. Dr. Fitzpatrick developed distance learning strategies and clinical simulation initiatives with a focus on scholarship and research. During her tenure, three centers were established: the Center for Nursing Research, the Center for Global and Public Health, and the MacDonald Center for Obesity Prevention and Education.
Please join NEF in remembering Dr. Fitzpatrick and her life's work in nursing.
Contributions in Dr. Fitzpatrick's memory may be sent to Nurses Educational Funds, Inc. to endow or make permanent the established M. Louise Scholarship Fund.
Nurses Educational Funds, Inc.
137 Montague Street, Ste. 144
Brooklyn, NY 11201
For more information please call Jerelyn Weiss
(917) 524-8051
or email:This email address is being protected from spambots. You need JavaScript enabled to view it.
Nursing Scholarships for Graduate Education
Nurses Educational Funds, Inc. (NEF) is a not-for-profit organization which seeks and distributes funds to baccalaureate prepared registered nurses who are in need of nursing scholarship assistance for graduate study. NEF is administered by a Board of Directors comprised of prominent leaders in nursing, business, and other professions. Nurses comprise the majority of board members.

NEF has been in existence for over 100 years! It was in 1912 that the first two Isabel Hampton Robb scholarships were awarded to two nurses, Cecelia Evans and Lisle French. From then on NEF has continued to support nursing professionals motivated to seek graduate degrees. With the support of those who value the critical need for:
nursing educators
advanced nurse clinicians
nurse researchers
NEF, the largest, single, private, professionally endorsed source of funds for advanced study in nursing will continue with this work for the next 100 years!
Support a Graduate Nurse's Education With a Donation To Nurses Educational Funds, Inc
Nurses Educational Funds, Inc, encourages all those who have ever been grateful for the care, commitment, and dedication of a nurse, to donate today to the Nurses Educational Funds, Inc. an organization solely devoted to raising money to support graduate nursing education.