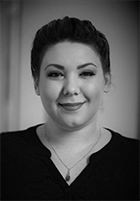 Athena Ford
Athena D. Ford, PhD(c), BSN, RN is the recipient of the AJN/Thelma Schorr Scholarship – given to a graduate nurse who exemplifies characteristics of a nursing leader who plans to exercise the "voice" of nursing through speaking or writing.
Ford is a proud Ronald E. McNair Scholar, Robert Wood Johnson Foundation Future of Nursing Scholar, and Nurse Faculty for the Future Fellow. She earned her bachelors in nursing science from the Valley Foundation School of Nursing at San Jose State University in 2015 and is a current PhD candidate in Nursing Science at the Johns Hopkins University School of Nursing. Ford's clinical career focuses in providing end of life care throughout the San Francisco Bay Area, while her research endeavors focus at the intersection of health and experiences of violence for LGBTQ+ communities.
As a queer woman and survivor of violence herself, Ford seeks to use her nursing education to give voice to LGBTQ+ survivors of violence and build a foundation of research to aid in improving care delivery and health outcomes for LGBTQ+ communities. Currently, her dissertation investigates the risk and protective influences of transgender community connection on mental health, help seeking, and engagement in care for transgender women of color who have experienced violence.
Ford has a growing family and splits her time between Baltimore, Maryland and the San Francisco Bay Area.