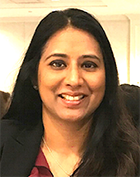 Annie George
Annie George MS, RN, CCRN, RN-BC, NEA-BC is the recipient of the 2018 Margaret Gould Tyson Nursing Scholarship. She is currently completing her 3rd year PhD Nursing course at the College of Nursing and Public Health, Adelphi University, NY. Annie received her BSc Nursing from Father Muller's College of Nursing, Mangalore, India, and her MS Nursing Degree from Adelphi University, NY. She has been a nurse for 18 years and has worked mainly in acute care settings including progressive/critical care and nursing professional development. For the last four years she has been an Associate Director of Nursing Education for Critical Care at New York City Health & Hospitals/Queens facility. In her current role, Annie is instrumental in developing workforce-training programs; critical care nursing orientation programs and orientation programs for medical residents and physician assistants. Annie holds specialty certifications in Critical Care Nursing (CCRN), Nursing Professional Development (RN-BC) and Nurse Executive Advanced (NEA-BC). She has also been an Assistant Director of Nursing at NorthWell Health /Lenox Hill Hospital.
Annie is a student member at New York Academy of Medicine. With the support and guidance from Dr. Patricia Donohue-Porter, PhD, RN, Director of the PhD program at Adelphi University College of Nursing and Public Health, she served as a planning committee member for the PhD Nursing Students and Faculty showcase for 10 universities in New York, New Jersey, and Connecticut. Recently, she and her four PhD Nursing student colleagues with Dr. Anne. G. Peirce, PhD, RN, Professor of Nursing at Adelphi University College of Nursing and Public Health, submitted a manuscript on Nursing Knowledge in a Complex Technological World.
Annie belongs to a number of professional nursing organizations including Sigma Theta Tau International (STTI), American Nurses Association (ANA), American Association of Critical Care Nurses (AACN), and National League for Nursing (NLN). She is a teaching faculty member of the American Heart Association (AHA). Annie with her husband and 2 teenage daughters are active members of the St. Mary's Church, Lynbrook, NY, where she also teaches Sunday school senior class. She continues to volunteer at local high school and local community organizations and provides CPR training and health education classes.
The PhD program that Annie attends concentrates on Nursing Education. Her research interest includes topics related to critical care nursing, tele-ICU, big data, genetics and genomics, artificial intelligence, ethical perspectives and nursing finance. Her doctoral dissertation will focus on the tele-ICU technology and its effect among ICU nurses and patient outcomes. Upon completion of the PhD degree, Annie is looking forward to transitioning into a Nurse Scientist role in academic/practice setting and working on developing new theoretical frameworks and evidence based research programs to advance nursing knowledge. On June 13, 2018 Annie received word that she successfully passed the PhD Candidacy exams and she is now officially a PhD Candidate !