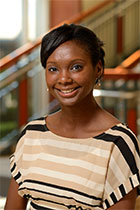 Tamryn Gray
Tamryn F. Gray, recipient of the Isabel Hampton Robb Memorial Scholarship, is a second year Ph.D. Candidate and Robert Wood Johnson Foundation Future of Nursing Scholar at the Johns Hopkins University. She earned her BSN and MSN degrees from the University of North Carolina at Chapel Hill.
Prior to doctoral studies, Tamryn practiced as an oncology/bone marrow transplant nurse at Duke University Hospital in North Carolina helping pediatric patients and their families contend with complex, life-altering decisions about their care and treatment. She was inspired to become a nurse because of the unique opportunity the profession offers to provide patients with evidence-based, compassionate, and healing care and to journey alongside them as a caregiver, advocate, and educator at their most vulnerable moments.
While at Duke, Tamryn served on and led committees related to palliative care, patient-family education, and patient-family centered care. She simultaneously served as a faculty member at the University of North Carolina at Chapel Hill, where she was a member of the HRSA-funded Careers Beyond the Bedside (CaBB) research team, actively engaged in student recruitment initiatives and scholarship to promote diversity, inclusivity, cultural competence and humility, and academic excellence in nursing education. In 2015, she received the UNC Health Care Nurse Faculty of the Year Award.
Tamryn's experiences as a clinician and educator compelled her to earn her Ph.D. in order to better understand the patient-family cancer care experience and drive innovation in healthcare. Tamryn's primary research interest is patient-family cancer care decision making across the disease trajectory from prevention and diagnosis through survivorship and end-of-life. With funding from the American Cancer Society (ACS) and Oncology Nursing Society (ONS) Foundation, Tamryn's dissertation research will explore the decisional, sociocultural, ethical, and patient-family factors influencing treatment decision-making about cancer clinical trial participation. She recognizes that recent scientific advances and health policy initiatives will make clinical trials a defining aspect in cancer care across populations, and it is important to understand the decisional factors that affect participation so as to ultimately develop interventions that improve cancer outcomes, reduce cancer health disparities, and address the complex bioethical issues involved in cancer treatment.
As a Jonas Nurse Leader Scholar and Johnson & Johnson / AACN Minority Nurse Faculty Scholar, Tamryn plans to pursue an academic research career, after earning her Ph.D., that will allow her to influence innovations in nursing and interdisciplinary research, practice, policy, education, and leadership so as to improve health outcomes and quality of life for patients, families, and communities.