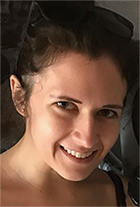 Cassandra Gozik
Cassandra is the recipient of the Laura D. Smith NSNA Scholarship. She started her nursing journey as a nursing assistant in an older adult memory care unit. She went on to work as an EMT on a college-run ambulance and was exposed to psychiatric emergency calls in the community setting. Soon she realized that nursing, psychiatry, and research would be the core focus of her career.
Cassandra earned her BS in Neuroscience and Psychology from the University of Vermont in 2012, and soon went on to earn her BSN (2015) and MSN (2016) from Regis College in Weston, MA. Cassandra is a certified Family Psychiatric Mental Health Nurse Practitioner.
Currently Cassandra works as a nurse manager and psychiatric NP at McLean Hospital, a Partners Healthcare Facility in Belmont, Massachusetts. She also is a psychiatric nursing instructor at Regis College in the Master's Program and a Leadership Council Member for the GNSA AACN and is a member of Sigma Theta Tau.
Ms Godzik is a PhD student at the School of Nursing at The University of Massachusetts Medical School at Worcester, MA. Her dissertation focuses on sleep and mood in older adults. Using a behavioral intervention, she hopes to improve sleep in this population. Cassandra is looking forward to her future role as a researcher and clinician in psychiatric nursing. As a PhD student and full time faculty member in nursing, she plans to inspire future nurses to lead in nursing like Laura D. Smith did in the mid to late 20th century.