Melissa Ferdinandi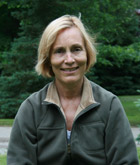 Melissa Taylor Ferdinandi followed a unique path towards nursing. She graduated with a B.A. in English from the University of Vermont before attending law school at Seattle University. Upon obtaining her law degree, Ms. Ferdinandi worked in various capacities in the legal field for several years and is currently a member of the Washington State and Massachusetts Bar Associations. During her legal career, Ms. Ferdinandi, always felt something was missing. She wanted to do something more personally rewarding in a field where she could contribute directly to the well being of others.
In 1993, after deciding to make a career change to become a nurse, Ms. Ferdinandi enrolled in the combined RN/MSN program at Vanderbilt University School of Nursing. She graduated in 1995 as a Family Nurse Practitioner. Since then, Melissa has worked in a variety of settings, from a community health center, to managing the State of RI STD Clinic, to working for the VA, to working as Regional Manager for MedOptions, the largest provider of behavioral health consulting in long term health care facilities in southern New England.
For the last two years, Melissa has worked for the U.S. Navy in Newport RI as a Nurse Practitioner, first as a contractor in the Deployment Health Clinic, serving Active Duty soldiers returning from war torn Iraq and Afghanistan. More recently Melissa has taken on a permanent position with the Navy as a Family Nurse Practitioner in the Primary Care Clinic of Naval Healthcare New England in Newport, RI.
It was during Melissa's first year with the Navy, working in Deployment Health, that Melissa discovered her true passion. Obtaining a doctorate degree had always been something Melissa had hoped to pursue eventually. But, after working for a short time with deployment health issues such as PTSD, TBI, substance abuse, suicide, and domestic violence, Melissa realized she had discovered her mission in life. She is now preparing to enter the PhD in Nursing program at the Medical University of South Carolina in Charleston to pursue research in the area of deployment health. Melissa hopes eventually to work for a government agency that helps shape policy in this area of healthcare. Melissa is a member of Sigma Theta Tau. She lives in Rhode Island with her husband and two boys.