Kari Radoff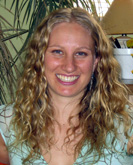 Kari Radoff is studying to be a nurse midwife at UCSF where she did her basic nursing program. Fluent in Spanish, she has volunteered throughout Latin America in hospitals, midwifery clinics, community health, an indigenous healer's hut and, most recently, in Nicaragua's Autonomous Region of the North Atlantic (RAAN), an area with high rates of maternal/infant morbidity and mortality. Once she has her master's and becomes a nurse midwife, she plans to return to Nicaragua and continue her work there.
She has seen first hand tragic outcomes of pregnancy, charging her with the mission to improve maternal-child health. Her experiences have taught her that improving maternal health knowledge is imperative.
Among her projects in RAAN is a onehour women's health radio program that she is currently developing with the local school of nursing and midwifery clinic. By women, for women, the show will be broadcast three times weekly in Spanish and two indigenous languages, Mayagna and Miskito.
Meanwhile, as a student nurse midwife, she offers prenatal and intrapartum care to Latina women living in the Mission neighborhood of San Francisco. As an RN, she volunteers with the Women's Community Clinic run entirely by volunteers, ranging from health educators to clinicians.