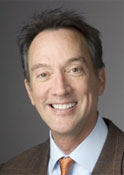 ROY L. SIMPSON, DNP, RN, DPNAP, FAAN, joined the Nurses Educational Funds (NEF) Board of Directors in 2012. He is currently the Vice President, of Nursing, for the Cerner Corporation whose mission is to contribute to the improvement of health care delivery and the health of communities through innovations at the intersection of health care and technology. At Cerner, Dr. Simpson is responsible for providing executive leadership in nursing and establishing relationships for the global patient care enterprise, as well as representing Cerner's nursing practice at the industry level. Dr. Simpson has more than 35 years of experience in nursing informatics and in senior executive administration.
In 1982, Dr. Simpson's primary executive research focus pioneered the development and funding of the Werley and Lang Nursing Minimum Data Set (NMDS). NMDS is a set of nursing data elements with uniform definitions and categories, including nursing problems, diagnoses, interventions, and patient outcomes approved by the American Nurses Association.
He served on the board of trustees for Excelsior College, formerly Regents College. At the State University of New York, he established in perpetuity the Roy L. Simpson Nursing Informatics Scholarship. Previously, he acted as the Frances and Earl Ziegler Visiting Scholar at the University of Oklahoma and as the Merle Lott Distinguished Lecturer at Georgia State University. He served as a distinguished professor at the University of Wales during the European Summer School on Nursing Informatics. He received the Informatics Award from Rutgers University in 1999, the Maes MacInnis Award from New York University in 2004 and in 2007 was recognized as an international scholar by Sigma Theta Tau. As a result of his scholarship and contribution to nursing informatics, Simpson was awarded honorary membership in the International Medical Informatics Association (IMIA). In 2012, in addition to Dr. Simpson's appointment to NEF, he was also appointed as a board member to the Foundation of the Friends of the National Library of Medicine, both organizations have offices in New York City and serve a national audience.
Dr. Simpson lectures extensively around the world and has published more than 500 articles on nursing informatics and leadership. He has been an active member of the American Organization of Nurse Executives (AONE) for 30 years. He pioneered the AONE Computer Committee now the AONE Technology Committee in 1984 and has had AONE numerous appointments - from White Papers in Technology to the HRDI Council and in 2012 as a member of the Sustaining Committee of the AONE Foundation. As a fellow of the American Academy of Nursing, he served as chair of the expert panel on Nursing Informatics and Technology, Treasurer of the AAN, and is an active member of ANA, AMIA, NLN, ANIA and member of the composite review board for ANA for 2012-15.
In addition, he was elected as a Fellow in the New York Academy of Medicine and a Distinguished Practitioner of the National Academies of Practice. Dr. Simpson received his doctorate in nursing practice-executive leadership at American Sentinel University. Dr. Simpson's research focused on informatics' competencies for continuing nursing education (CNE) in multihospital systems.