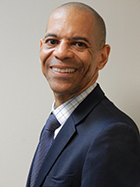 Dr. Kirton has more than 30 years experience as a registered nurse and nurse practitioner with a particular emphasis on the care of patients with HIV and AIDS. He has lectured nationally and internationally on the topic of HIV/AIDS and has worked with health professionals in Spain, Central and South Africa to improve the care of persons with HIV/AIDS. Dr. Kirton is the past president of the Association of Nurses in AIDS Care, the largest professional organization for nurses in the field of HIV. He has published two texts on HIV/AIDS nursing and has published more than 50 articles, textbooks chapters and monographs.
Dr. Kirton received his bachelor's degree from Lehman College in the Bronx, NY; a master's degree in education from NYU; a post-master's certificate as an adult nurse practitioner from NYU; an MBA from St. Peter's College in Jersey City and doctorate in nursing practice from Case Western University in Cleveland Ohio where he studied the issue of power and medication adherence in HIV/AIDS infected persons.
Dr. Kirton holds faculty appointments at New York University and St. Peter's University where he teaches courses in health care administration, quality, finance, and business strategy.
He is a seasoned health care administrator having held progressive positions in leadership at the executive level in academic medical centers, community hospitals and public health medical centers. He is currently the Chief Nursing Officer at University Hospital, the primary teaching facility for Rutgers Health.